Positive Feedback on Launch WISHES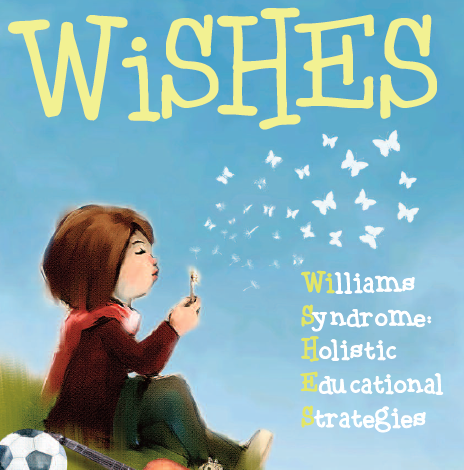 What people are saying about WiSHES
"I love this book! It's so practical and positive. It's littered with insights that resonate with my experience as a parent, helping to make sense of our son's individual learning and developmental journey. The easy-to-navigate structure of the book invites focused reflection and prompts strategies across all educational aspects that are, crucially, centred around the unique attributes and strengths of the individual. It will, I'm sure, serve as an invaluable resource for engagement and collaboration between parents, teachers and education providers. Above all, it reminds us that our inspiring WS sons, daughters and pupils have so much to offer our families, schools and communities!"
Jon Lovell, Parent, Secretary of the Williams Syndrome Foundation (UK) and President of the European Federation of Williams Syndrome (FEWS).
Comments from parents:
"OMG this book is out of this world, it's fantastic. Fionnuala really understands people with WS and what they and their families need to succeed. I have never come across so much help and understanding in one read to date.
I would have cherished it for all the years my daughter was at school and to help the teachers understand that her better. I love all the help and suggestions throughout the chapters … with each obstacle there is a suggested road map around it!
My daughter is now in a training centre, but yet I think the book will still be valuable to us as a WS family. It will remind us how to approach various difficulties that arise that may cause anxiety and anguish to our daughter. Also, the learning never ends and there are so many great approaches suggested in the book that we would find extremely helpful for our daughter.
I'm quite emotional after reading it as I think it's what we have been waiting for. It's like a user's manual for WS. We finally have someone who has inside experience and understanding of WS. All the initial negatives coming from a diagnosis can now be erased with the guidance from this genius book, we now all have a road map for our WS people to succeed and be happy in their everyday lives of learning".
Debbie – Parent.
"At Last! A positive and practical guide to understanding and motivating people with Williams Syndrome. This is the first time that every important aspect in relation to raising a child with WS has been gathered in an understandable and user-friendly format. It offers useful tips and practical hints in addressing the unique needs of these amazing children. Its step-by-step approach makes any perceived enormity of the task more approachable and achievable by any family. When our child was first diagnosed, we were advised to give him confidence in his own abilities. This book will increase any carer's confidence in doing just that. It is a must-have guide for all parents/carers and teachers of children with Williams Syndrome to help them navigate, motivate, increase their confidence, and assist them to reach their full potential towards living their best independent life."
Deirdre and Johnny Graham  (parents)
Comments from Siblings:
"I think this book will give me a better understanding of Williams syndrome. When I first heard my sister had WS I thought it was an illness like a cold but then I realised it was something completely different. The people I meet with WS are kind, funny, love music and talk a lot. I think this book is very interesting and I would like to learn more about WS."
Jackson (sibling)
Comments from Teachers:
"From the outset, this book provides an uplifting and fresh minded account of Williams Syndrome. There is a superb balance between theory and practice. As a practitioner of mainstream classes and special education, this book provided me with a larhttps://www.curriculumdevelopmentunit.com/wishes.htmlge volume of practical ideas, examples, templates and became a worthwhile workbook of self-reflection. It acknowledges the individual's strengths at the forefront and endeavours to identify and support the holistic needs of the child with WS as a focal point for systematic intervention. I would highly recommend this pragmatic book to anyone working with individuals with Williams Syndrome"
Dearbhail (teacher)
The book can be purchased from the Curriculum Development Unit of Mary Immaculate College. It costs €30 plus postage. https://www.curriculumdevelopmentunit.com/wishes.html